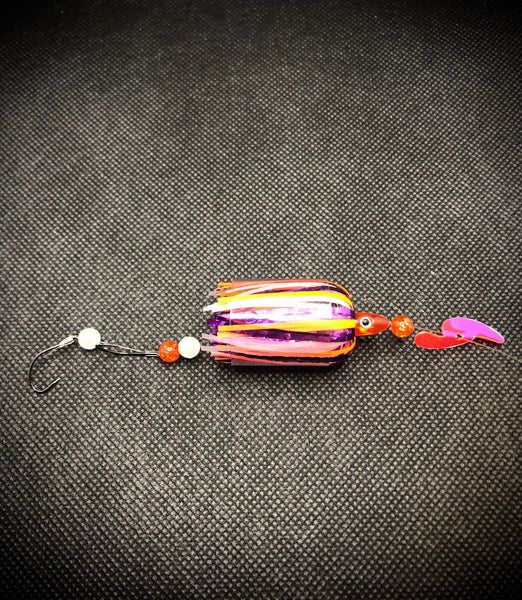 2" Orange and purple
YOU WILL LOVE THIS ORANGE AND PURPLE FLY...... THE FISH SURE DO!
THIS IS A MUST HAVE IN YOUR LINE UP, WHEN HEADING OUT THE DOOR TO YOUR FAVORITE FISHING SPOT. THE COMBINATION OF CHROME, PURPLE AND UV ORANGE AND GLOW, IS A DEADLY COMBINATION WITH BEADS. AND SUPERFLY SPINNER BLADE IS SURE TO GIVE YOU SOME TIGHT LINES.  THIS FLY WORKS EXCEPTIONALLY WELL WHEN PULLED 12"- 24" BEHIND A DODGER/FLASHER FOR KOKANEE, TROUT AND COHO.  
THIS COMES PRE-TIED ON A 15LB FLORO CARBON LEADER AND TWO DOUBLE STACKED HOOKS. CHECK OUT THE UN-RIGGED PINK UV FLYS.